It's all about the stars!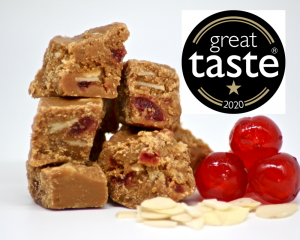 At 12 Noon on Monday, 21st September, I sat eagerly refreshing the website of The Guild of Fine Food to see the long awaited results for my Cherry Bakewell fudge entry into The Great Taste Awards. To be honest, after being privileged enough to already hold this award on four of my handmade fudge flavours, I didn't really hold out much hope for another win. But then, as I refreshed the page of the overly-busy, crashing website once again, I was over the moon to see that I had been awarded yet another coveted star.
Great Taste is the world's largest and most trusted food and drink awards. This year, they tasted and judged 12,777 products, with just 5,300 winning an award. Covid-19 has certainly made this a challenging year for all of us, but the team at Guild of Fine Food have worked hard to deliver results just six weeks later than usual, and I'm sure that the other 5299 award winners are just as excited as I am to have received such good news during these uncertain times. It's certainly added a little cheer and a lot of "happy dancing" in my fudge den this week, that's for sure!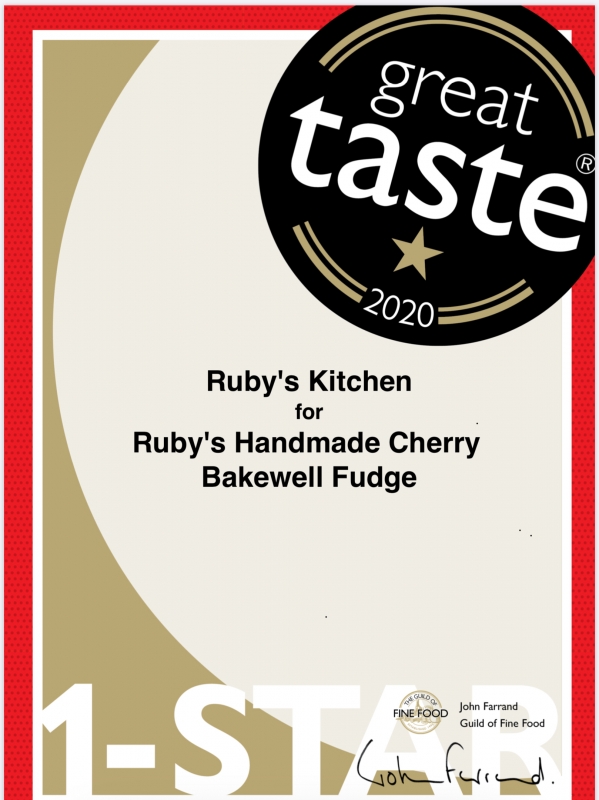 The first time that I entered into Great Taste was in 2012. I had only been making fudge professionally for two years, and I'm not ashamed to say that I actually cried when I was awarded a star for both my Traditional Butter and Stem Ginger fudge entries. It's a big thing! The awards are based on a star rating - one, two or three stars can be awarded to a product. If your entry is worthy enough to receive all three, then they are judged yet again to be entered into the "Great Taste Golden Fork". I have never received more than one star for my fudge, but I still feel honoured to have received this worthy accolade at all, especially for every flavour that I have ever entered.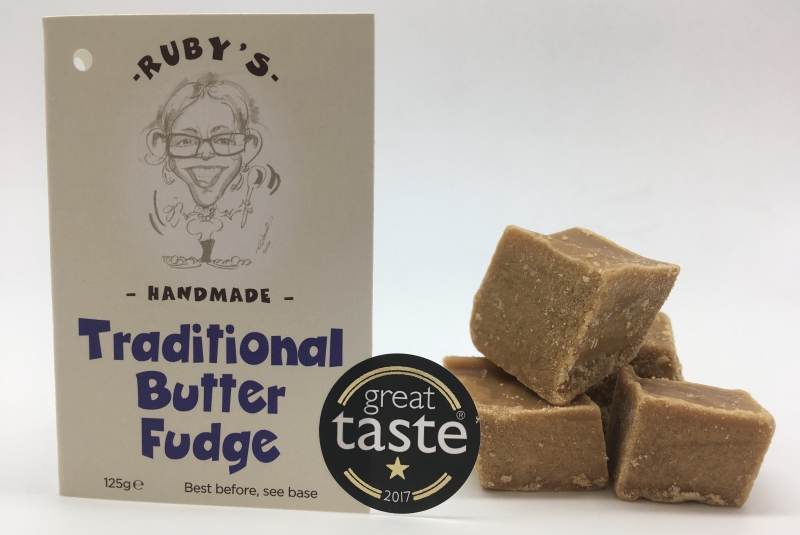 In 2015, I was awarded a star each for both my Lemon Meringue and Chilli and Sea Salt fudge and in 2017 for my Traditional Butter fudge (again!). So when entries opened earlier this year, I decided that I would enter just one flavour of fudge. But which? I set up a poll on my Facebook page and asked my lovely followers to choose their favourite flavour between my Cherry Bakewell fudge and Irish Cream fudge with dark chocolate sprinkles. They love to get involved with all things fudgey, and so the decision was made to enter one of my first ever fudge creations - Cherry Bakewell (the inspiration of which, came from some delicious cherry Bakewell biscuits that I once bought from M&S!).
Here's what the judges had to say anyway;
"Attractive caramel-brown squares of fudge with cherry pieces throughout. The fudge is creamy and buttery on the nose with a soft sugary texture, releasing the "cherry Bakewell" flavours of almonds and cherries. A lovely texture as you bite into the soft cherries and get a little crunch of almonds. Well balanced and refreshing to have a fudge with a difference that works."
"Deep caramel-coloured silky fudge with visible almond and vibrant red-cherry pieces throughout. Pure cherry Bakewell butteriness on the nose, with ripe almonds and sweet notes of glace cherries. A dense structure which is firm to cut, with a good bite and a delightful contrast of textures with a crunch of almonds and squeak of juicy cherries. Rich, buttery and well-balanced with vibrant cherry intensity and culminating in an elegant almond nuttiness on the finish. A novel flavour concept for a fudge and distinctly appealing."
So next time you're out shopping and you see that little black and gold label, remember that whatever's on the inside must be pretty darn good and someone, somewhere, once did a little happy dance when they received that award. Just like me!
Ruby. x
Back to Blog