Starting a fudge business - Part 1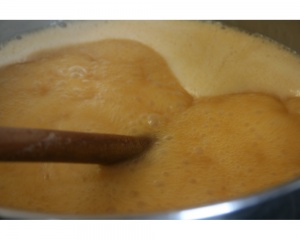 It's over eleven years since Ruby's Fudge made its debut at a Worcestershire Farmers' Market and I'm very much looking forward to reliving my fudge journey with you here over the coming months. So where shall I start? At the very beginning, of course....
"What made you start making fudge?"
This is most definitely my most asked question, and for me to answer how and why I started my artisan fudge business, I need to tell you just a little bit about my background.
I grew up on a working sawmill in Worcestershire. A business that couldn't be more different from making fudge, but a business all the same and an environment that taught me the basic skills of running my own enterprise. I have always been fond of cooking (and eating), it's my go-to pastime! When the pressure was on at school to decide "what I wanted to be when I grow up," my sister Carol suggested that I go to catering college, and so I studied professional catering and hospitality for three years. I have worked in the food industry ever since.
For over ten years I worked seasonally for Goodman's Geese. A business that originally began with just a few geese plucked by hand in the boiler room of a beautiful Worcestershire farmhouse, to being one of the most prestigious free range goose and bronze turkey producers in the UK. I spent quite some time helping the founder and face of Goodman's Geese, Mrs. Goodman at shows and food festivals. She would often coax me onto the stage to help out during her packed-out food theatre demonstrations. If I'm honest, I didn't like that part much, but I did once get to share celebrity chef Brian Turner's oggie with him back stage. (That sounds really wrong, but I'm going to leave it there!). I did however, very much enjoy working amongst the foodies of the world and seeing what they had to offer.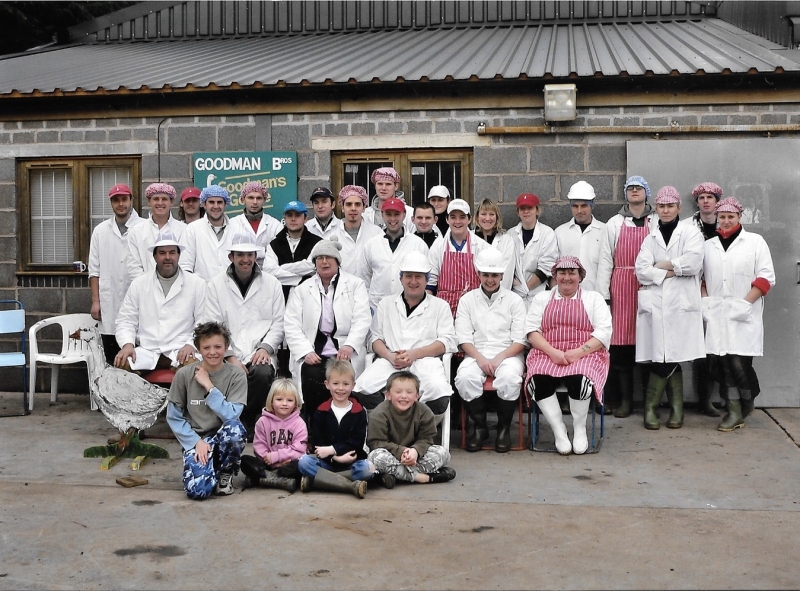 With Judy Goodman's success story and the insight that I gathered from spending so much time in food halls during my late teens and early twenties, I wonder that if I had never asked for a job strawberry picking at Goodman's for the summer when I left school, whether I would be doing what I am today. Most probably not.
Judy was also a star in the BBC's Two Fat Ladies' Christmas special, whom I believe after filming, went on to have supper at The Talbot at Knightwick - my favourite inn at the bottom of Ankerdine Hill, famous for its eclectic charm, game pies, log fires, River Teme beer garden, farmers' market and This, That and T'other. Oh, and Kit Harington.
I was lucky to have gained so much experience working at The Talbot on and off (but mostly on) for around twelve years. In 1998, when I first worked there, the Teme Valley Market was set up with the inspiration from the Slow Food movement by Mrs. Clift of the Talbot. One of my jobs in the Aga-driven kitchen was to prepare pies, ready meals, pâtés and puddings for the second Sunday of every month when the market was held. Teme Valley Market is one of the oldest farmers' markets in existence in the UK and thrives to this day. If you haven't yet tried my fudge, there are always plenty of free samples handed out at Teme Valley Market. (Or if it's too big a drive you can buy any three of our signature fudge gift bags here for just £12).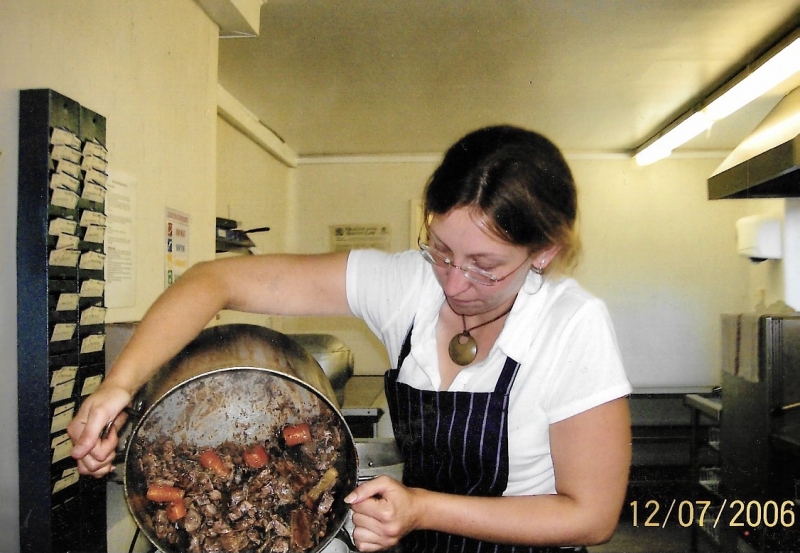 Game Of Thrones fans only. Please stop wetting yourselves. Yes, I worked with Kit Harington. He's a nice lad, I taught him how to use the till.
Ruby's Kitchen actually began in 2003 with a successful outside catering company specialising in pig roasts. Yes, prior to becoming "the fudge lady" I was known as the "the pig roast lady". I think I know which one I prefer! You may have gathered by now that I like variety in my work. I've always kept busy, but I've never been a full timer in the same place for more than three years. This has always made writing a CV pretty difficult!
2007 saw the global financial crisis, and although I had plenty of work as a freelance chef, the outside catering side of things had quietened down significantly and remained very seasonal. I trained and worked as an NVQ assessor in hospitality and catering until funding cuts in the education system forced me to rethink again.
In the Autumn of 2009 I was ticking over steadily, cooking here and there and roasting a few pigs but I'd had enough of the unsociable hours. It suddenly dawned on me that I had a kitchen (my home kitchen) registered with the local council for food preperation/production and a business name that doesn't have to be limited to just the catering business. I soon visited some local food markets and began thinking about possible products that I could make and sell at a farmers' market.
Marshmallows - my first idea! The delicious, fluffy pink and white marshmallows that I love to make for our camping trips. I made a batch and tested the shelf life in a cellophane bag for a few weeks, but I was disappointed when I saw they'd turned to sticky mush. Back to the drawing board. I wanted a product with a good shelf life to potentially be able to sell into shops as well as directly to the consumer. Biscuits sprang to mind, but they needed to be a little different from the rest. With my love for Italian food I opted for biscotti and amaretti biscuits. Biscotti were fairly new on the scene in the UK coffee shops and being twice baked, their shelf life was long. I experimented with different recipes and flavours, researched into food labelling regulations and packaging ideas then booked myself in to my first market in Worcester city centre.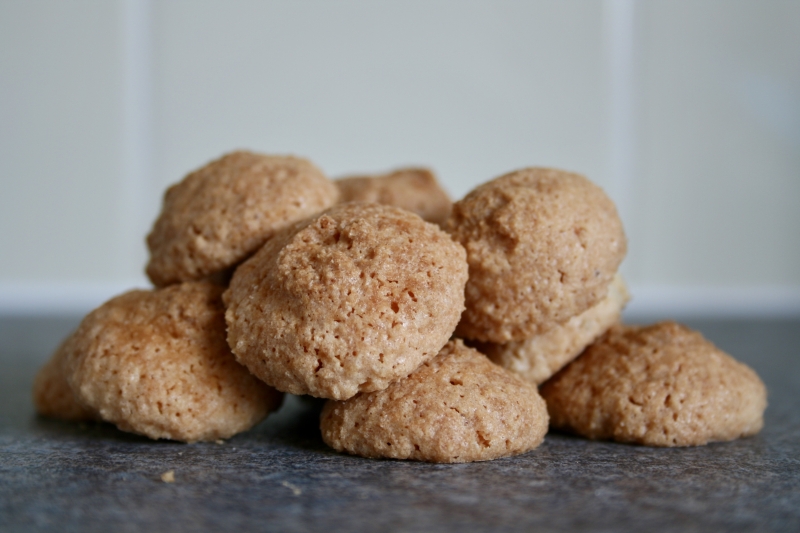 New Year probably wasn't the best time to start out, being January and all, but there was some interest in my biscuits and at least I covered my stall fee. I felt I needed a wider range of products, so for the next market, I added some classic biscuits to the mix. Shortbread, gingernuts and oatties pleased some less adventurous customers and sold well in a few local farm shops and delicatessens.
Whilst packing up from one of these first markets, the market coordinator came to me and said "Ruby, can you make fudge? We've just lost our sweet people and homemade fudge sells well." I was hesitant. I know how tricky fudge is to make, I'd tried in the past. Before he walked away he said "If anyone can do it, you can!" and he left me to think.
So this folks, is just the beginning of my journey and I can't wait to share with you the story of how I found my first recipe, achieved perfection and invented my first range of flavours in part two of my story, starting a fudge business.
Ruby. X
Back to Blog