A fine review from the queen of crime drama, Lynda La Plante CBE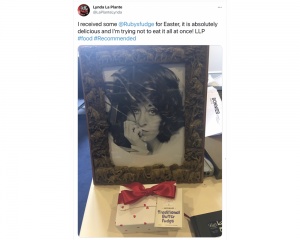 Just before Easter whilst I was busily doing up parcels, I noticed that I had received a gift box order to be sent to a name that I very well recognised - Lynda La Plante CBE, queen of crime drama, best selling author (most famously in my eyes of the hit television drama series Prime Suspect, starring Helen Mirren) and as I well know now, lover of fudge!
I made up the pretty romantic fudge gift box, sent it off and left a little note to the buyer saying that I'm feeling very honoured to be sending out fudge to Lynda La Plante - I can't help it, I was excited! In an unexpected response, the buyer told me that Lynda loves fudge and she likes to eat it whilst she's writing.
To my surprise, whilst out selling fudge last Sunday at Teme Valley Market, I had a notification on Twitter. You guessed it! It was Lynda La Plante herself, who kindly tweeted "I received some @Rubysfudge for Easter, it is absolutely delicious and I'm trying not to eat it all at once! LLP" She also included a photo of my fudge in front of a beautiful picture of herself, which added to even more of a personal touch. I was over the moon!
Lynda is celebrating the launch of her latest book, Judas Horse and so I have treated myself to a copy to celebrate. I like a good read, but crime has never been something I've opted for. I'm not sure why, I have nothing against it, I've just never read crime novels. I started to read it lastnight, and I have to say that I'm already hooked - I may even have to order more of Lynda's books!
So that is my claim to fame for this year, Lynda La Plante CBE recommends my fudge and I couldn't be happier!
Ruby. x
Back to Blog