Happy New Year, here's to 2021!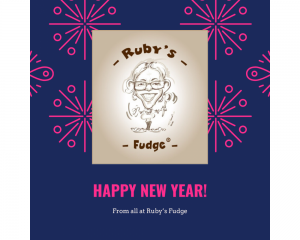 As we come to the end of one of the most challenging years in recent history, I would like to thank you all for your generous support and encouragement throughout 2020. In the last year, I've made a whopping 1.6 tonnes of fudge from my little fudge kitchen, and I couldn't have done it without you!
This is the first chance that I've had to write an update for a while. Since the beginning of November it's been all hands on deck in the fudge den, and although we were well prepared for a busy few months ahead, I really wasn't expecting to be sending out so many parcels! You've all made such an effort to shop locally and support British artisans, it really is one of the best things for small food producers alike to come out of the COVID pandemic.
For various reasons, I haven't been selling my fudge at as many food fairs and markets as I used to, so this time last year I made it my mission to bring you a wider range of fudge gift boxes and hampers as well as our signature fudge gift bags easily available for you to buy online.
I had already set up an Etsy shop and my new website was in the early stages of planning when the government announced shop closures back in March. Being that I was relying on most of my sales as wholesale to my lovely shops, this was a worrying time. With your support, my recently completed e-commerce training course and an increasing demand for gifts to be sent to loved ones during lockdown, online sales were busier than any usual Christmas. It was a pretty tough few months to say the least, but I was so touched by the beautiful gift messages included in your parcels and the lovely feedback that I was receiving. Throughout this time I have formed some wonderful relationships with new customers that all share my love for proper fudge.
Now I do have an apology to make - with just over a week left until Christmas, I was struggling to source packaging, the postal system was getting behind and my shops were in desperate need for their orders. Exhausted, I finished wrapping hampers at midnight and made the decision to mark all of my products online as "out of stock". Myself and my fudge elves Claire and Zoe had done extremely well to cope with the high demand, but orders were still coming in thick and fast. If I had left things as they were, I'm certain that your goodies wouldn't have arrived in time for Christmas. I probably would've still been making fudge on Christmas Day whilst eating my sprouts! I sincerely apologise if you missed out, but I'm very much looking forward to getting the fudge kettle back on the boil this Monday, 4th January after a well earned rest.

What are my plans for 2021? I'm looking forward to having a re-design of my popular fudge hampers and kilogram fudge boxes, bringing new guest flavours to you and of course, continuing to make some of the best fudge available to by online in the UK!
For the latest news and offers, don't forget to sign up to our newsletter or follow us on social media. Links can be found on my homepage.
Here's wishing you all a happy and healthy 2021!
Ruby. X
Back to Blog