Celebrating ten years of Ruby's Fudge with a brand new website!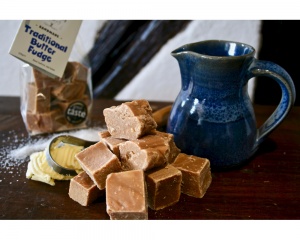 I find it hard to believe that it was ten years this February since I took my first batch of fudge to sell at a Farmers' market along with my homemade biscuits. My just plain, traditional butter fudge sold out in no time, and already I was receiving requests for different flavours. Before long, I had created a further eight flavours, and was fast developing a strong customer base. Unable to cope with the baking as well, I decided to stick with selling just fudge as it grew ever more popular. A lot has happened over the past ten years, and I'm looking forward to telling you all my story from how it all began to where I am now, in a series of blogs right here on my lovely new website.
I set about planning my new online shop with James from Blue Fusion Web earlier this year, and I'm sure that you'll agree, he's done a fantastic job! For any of you that know me, you'll know that I like to do everything myself, so when work commenced on my new web design, my last words to James were "make it funky!". He probably wondered what sort of crazy person he was dealing with at the time, but he came up trumps with the initial design and, quote James, "the correct level of funk" was delivered. Finally my fear of putting my business branding into the hands of others (the professionals) has eased, and I'm so pleased that I took the plunge. I've thoroughly enjoyed seeing it all come together from the comfort of my fudge den!
We've added a few new features to our online shop that I hope will help with your shopping experience. You can now build your own three and four bag fudge hampers, choose up to two flavours to fill your favourite 250g fudge gift boxes and select up to eight flavours in our one kilogram boxes of assorted fudge. There's more to come too, keep an eye out for our 'guest fudge' flavours arriving very soon!
As always, our 125g gift bags are on offer at any three for just £10, and we've now included a similar offer when you buy any three gift boxes - perfect if you're looking to buy multiple fudge gifts.
The checkout is also much simpler. If you're a repeat customer, you can set up an account to enable you to log in with your password for a speedier transaction using PayPal (you don't need a PayPal account for this, you can always securely enter your card details instead). Similarly, you can pay with PayPal using our guest checkout, or if you're an Amazon customer, you can opt to pay with AmazonPay using your Amazon login, saving you the job of filling out your delivery details - now that's fudge at your fingertips!
Building a fresh, new and mobile friendly website seemed the perfect way to mark our ten year anniversary. After all, I'm sure you'll agree that my handmade fudge deserves it. Whether you're treating yourself to a bag, or looking for an extra special gift, I'm certain that it will now be easier than ever for you to buy "The finest fudge in The Shire!".
Have a browse, I hope that you like it as much as I do!
Ruby. x
Back to Blog