500g Gift boxes are here to stay!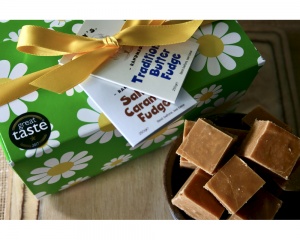 A few months ago I received a phone call from a customer asking if I offer a 500g fudge gift box. I've always sold 125g and 250g gift boxes, but I'd never really given it a thought to sell half kilo boxes in the same designs before. I thought it was a great idea!
I'm fortunate enough to have a manufacturer and supplier of these beautiful gift boxes on my doorstep in Malvern, so I ordered a few designs and to her delight, fulfilled my customers' order quickly. I was delighted too, and immediately listed those two designs on my website with a choice of two flavours per box. It didn't take long for me to realise that you lovely people like the idea of larger gifts boxes and so I have now added the full range here.
Our large boxes of fudge make the most indulgent gift for any individual, couple or even small family. There's a design for every occasion and the fudge is pretty good too!
Ruby. X
Back to Blog